Season Finale
The Ammer Trio concluded the 2014 concert season with a heartfelt performance of works ranging from young Beethoven, his Op. 1 No.1, to one of Faure's last works, written when he was 78. In between were two exquisite pieces by Schumann and Dvorak for cello and piano. The sublime tone that Janis drew from his cello was beautifully matched by Stefan's musicianship and it was a treat to have Florian out of the boardroom and back on the stage! Thank you for your support this year, the warmth of the audience both last Sunday and throughout the season encourages a wonderful rapport with the musicians which is such an integral part of music making.
Concert Tickets Make an Ideal Christmas Gift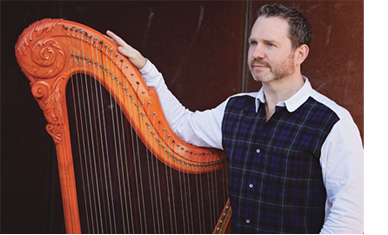 We've had a terrific response to our 2015 program and the opening concert on 30 August sold out within a week. Our decision to extend the capacity from 150 to 200 was certainly the right one! We have seats available for all other concerts but don't leave it too long as several are selling fast. Individual concert tickets or a subscription of 4 make an ideal Christmas gift for family and friends.

Click here or call (08) 8227 1277 and we will arrange it for you.


Marshall McGuire, one of the artists for the opening concert.
Photo credit: Steven Godbee.
Laying of the Foundation Stone
On Friday 14 November, the Klein family unveiled the foundation stone of the Ngeringa Arts Cultural Centre. Ulrike with the assistance of her grandson Quinn revealed the limestone plaque which has been set into one of the outer rammed earth walls. The ceremony was attended by Ann Ferguson, Mayor of Mt Barker, supporters and neighbours of Ngeringa Arts and the construction team.

After the unveiling of the plaque, Ulrike led guests inside the concert hall and in accordance with German tradition, a wreath of She Oak branches decorated with roses from the property was hoisted 10 metres up into the ceiling to mark the completion of the roof. Ulrike was enthusiastically assisted by her grandchildren Elliot, Jessica and Charlotte.



Progress on Site
Since the festivities, the intricate ceiling has been completed. The small triangular panels within the main circular structure are all at different depths and play a vital part in the acoustics. The circular steel collar is yet to be painted a deep aubergine. You can also see the platform for the air-conditioning units which is located away from the building to reduce noise transference. This environmentally friendly indirect evaporative system takes in fresh air from the outside which is then released through high level wall openings. It draws its power from roof mounted solar panels and in winter it's fired by LPG gas.


Sculpture Commission for the Garden
Ulrike first met Luke Zwolsman at the 2012 Adelaide Hills International Sculpture Symposium and watched him create a magnificent portal in black granite which is now installed in the Bluestone Estate at Mt Barker. She was so drawn to his work that, although he lives and works on the Gold Coast, she approached him about a commission for the Ngeringa garden. He enthusiastically agreed and has been working on the piece for the last couple of months.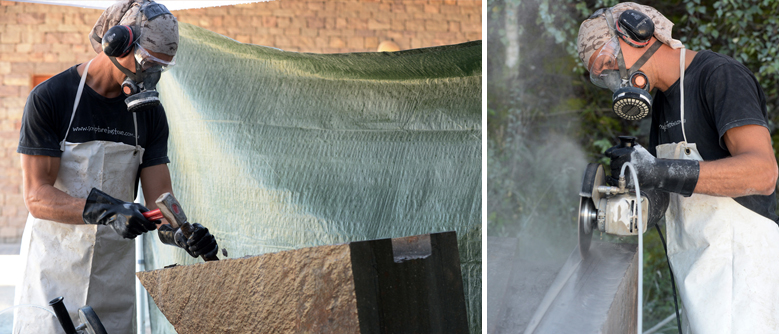 When asked about the selection of stone and the creative process he had this to say;

"The sculpture is made from a beautiful grey/black granite from Western Australia called Kimberley pearl. It is a granite that I have found difficult to source so when I saw it in my wholesaler's yard I was immediately excited! I often work with portals and I think that it is particularly apt for Ngeringa. It can signify many things but in this instance I'm wanting to express a transformative and meditative process linking it to the same processes in music and sound."



Luke is gaining a high profile in Australia as a stone sculptor who often uses a 'portal theme', as the gateway to a new understanding of life. His friendly and gentle demeanour belies his extraordinary strength and he particularly likes to work in extremely hard stone.
From NGERINGA Vineyards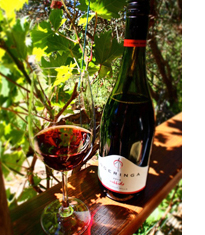 Wondering what to give to colleagues or clients this Christmas? Or equally family or friends? NGERINGA Vineyards' acclaimed biodynamic wines and olive oil reflect the finest of artisan production from the cool-climate Adelaide Hills and make ideal personal or corporate gifts. At NGERINGA, we take a traditional, time-tested artisan approach to make European-style, fine wines from our certified biodynamic vineyard and farm in the cool-climate Adelaide Hills. Our methods result in site-expressive wines with finesse, depth, complexity and integrity. Download our order form here to place your orders. For our business customers, NGERINGA is pleased to offer our wines at wholesale prices. Contact us directly on

[email protected]

or 8398 2867 for our wine list and further information.



Best wishes for the Festive season and we look forward to welcoming you to our opening concert by the Australian Marimba Duo on Sunday 29 March at the Living Arts Centre at the Mt Barker Waldorf School.





If you no longer wish to receive e-mails from us, click here to opt out