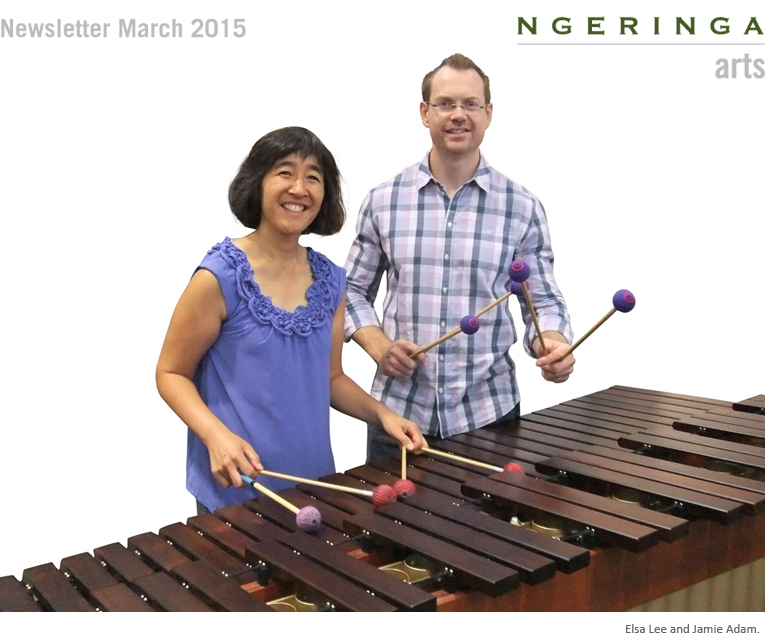 Masters of the Marimba return
To launch our 2015 season the Australian Marimba Duo will perform a dynamic program by living composers. The rich, contrasting colours of the marimba has inspired many world renowned percussionists to compose their own repertoire. With a range of over 4 octaves the sounds are further amplified when two are blended together.

Drawing inspiration from around the world the concert opens and closes with pieces by the great Japanese master Keiko Abe. It also includes music by the young, virtuosic Serbian percussionist Neboja Zivkovic and a fabulous arrangement by American player Kevin Super of Tango No.1 by Astor Piazzolla.

This duo of Elsa Lee and Jamie Adam, captivated us with a stunning performance back in 2009 and if you missed out then, be sure to join us at the Living Arts Centre on Sunday 29 March at 3pm. Click here to purchase your tickets.

Arts Advisory Board on site



Left photo: from left - Mary Vallentine, Christine Kotur (facilitator), Marshall McGuire, Tim Matthies, Greg Mackie, Ulrike Klein,
Amanda Duthie, Alison Beare, Genevieve Lacey and David Minns. Right photo: Admiring the roof structure.

On 7 February, members of our Arts Advisory Board gathered on site for their first tour of the Cultural Centre. They were inspired by the setting, the landscape and the building and felt the strong connection between nature and music. They spent the day imagining the future and defining the role and purpose of the Cultural Centre. It was a lively conversation between a group of critical friends who have the combined wisdom and experience to create a dynamic 50 year vision. They strongly believe in the importance of a genuine exchange between artists and audience and they see the potential for it to become renowned as a place where new work is born - a place where art is made. They will meet again just before the opening weekend in August.

How do you fit a rectangular hall sound into a round space?



Left photo: Cameron Hough (right) on site with Ulrike and Anton. He was impressed by the quality of craftsmanship and attention to detail. Right photo: Cameron Hough is checking the 'solidness and robustness' of the construction of the wave diffusion ceiling to ensure it will reflect the sound waves as intended by the design.

Over two parts, we explore the story behind the acoustic design of the new Concert Hall at the Ngeringa Arts Cultural Centre. This project exemplifies the collaborative process undertaken by the design team to realise this unique, world-class performance space. Critical to the design has been providing the same aural experience as a traditional rectangular hall, including rich lateral sound reflections, spaciousness combined with superb clarity, intertwined with the visual intimacy of a circular hall: matching acoustics to visual quality.

Members of the design team - Adelaide-based architect, Anton Johnson, Principal, Andrew Nicol and Senior Consultant, Cameron Hough from Arup - discuss how the design evolved, the challenges they overcame, and some of the key features of the space.
Click here to read the full interview.
Sophie Rowell showcases her 'new' violin



Sophie with the South Australian Guadagnini.

Last April Sophie Rowell showcased the magnificent Guadagnini Violin (1751), which was purchased by the people of South Australia in the 1950s. This year, on 26 April, she will showcase her very own fine instrument crafted by Pietro Mantegazza in Milan in 1757. Sophie purchased her 'new' violin late last year which means she has returned the South Australian Guadagnini to us. Applications are now open and the violin will be awarded to another outstanding Australian musician for a period of three years. To find out more click here.

Our congratulations to Sophie who has just been appointed Associate Concertmaster of the Melbourne Symphony Orchestra.
To purchase tickets for her recital with Lucinda Collins click here.
Farewell Peta and welcome Emma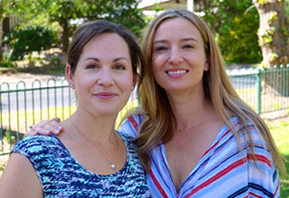 It is with a heavy heart that we farewell Peta Eriksson. Peta has been our Executive Assistant for almost two years and I know many of you have received her cheerful assistance with ticket purchases. She is moving to Brisbane where her husband, Anders, has been awarded a prestigious Vice Chancellor's Research Fellowship at the Queensland University of Technology. We wish them well.

In her place we welcome Emma van Lierop, who comes to us from McConnell Dowell Constructors, where she has been Office Manager/PA since 2007. Please don't hesitate to contact Emma if you have any concert queries. Her working hours are Mon, Tues and Thurs. Phone 08 8227 1277 or email

[email protected]




Photo: L-R Emma and Peta.



NGERINGA Éclat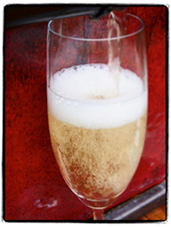 NGERINGA Vineyards is pleased to announce the release of our first méthode traditionelle sparkling wine, NGERINGA Éclat NV! With a name meaning confidence, verve, zest, sparkle and spirit, Éclat is a fresh, aperitif-style sparkling wine, glittering with flavours of grapefruit, shortbread biscuits and the crunch of green apples. Fantastically dry, texturally creamy and mouth filling with a racy, acidic zip through its core, the wine was made from estate-grown, biodynamic Chardonnay and Pinot Noir from our steep Summit Vineyard.

Overlooking Lake Alexandrina and the mouth of the River Murray, the vineyard is cooled by strong breezes on summer evenings, preserving fruit acids and flavours through the critical weeks of ripening. Fermentation in barrel gives the wine its fine, yeasty, sourdough notes. We invite you to the Cellar Door to taste NGERINGA Éclat NV alongside the full NGERINGA range. Join us at the end of every month for Pizza Sundays or contact us to make a private appointment with the winemaker, Errin Klein.
08 8398 2867 or

[email protected]





If you no longer wish to receive e-mails from us, click here to opt out