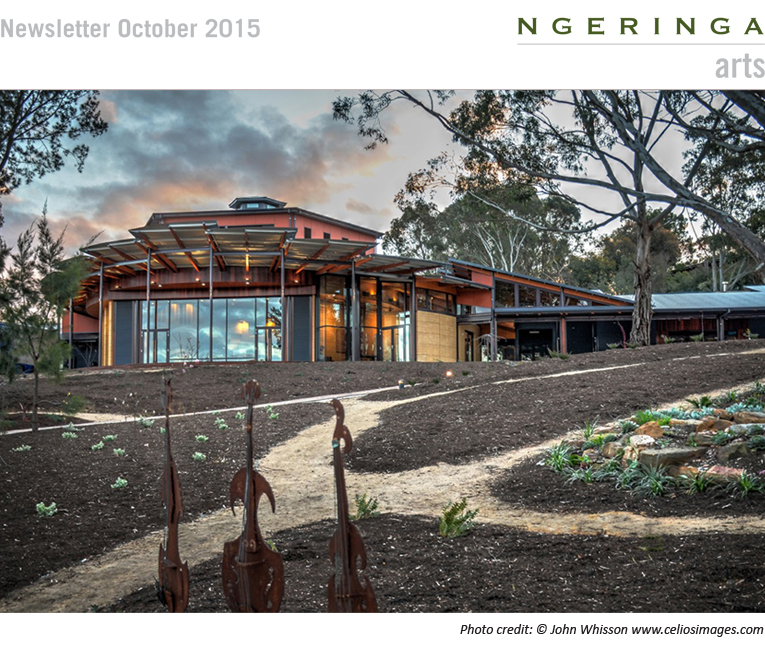 Doors wide open
After years of planning we finally threw open the doors of the Ngeringa Cultural Centre and revealed Anton Johnsonís truly unique and beautiful building.
Cleansing Ritual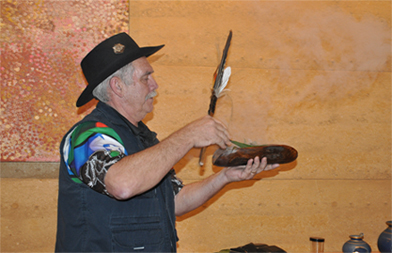 Before the first event, Ivan Copley, Peramangk Elder, performed a smoking ceremony. This ceremony is to cleanse the site and the building in a culturally appropriate way.
It also pays respect to the ancestors of the Peramangk and Ngarrindjeri Peoples who used this area for thousands of years prior to colonisation for ceremonies and funerals. Ivan carved a beautiful coolamon (dish) from a specially chosen piece of hard wood and made the ceremonial feather stick in the traditional way. The coolamon and feather stick together with the ash from the ceremony remain on display in the foyer as a permanent reminder of the significance of this place.

Ivan Copley with the coolamon and feather stick.
Photo courtesy of Mia Copley.

Guest of Honour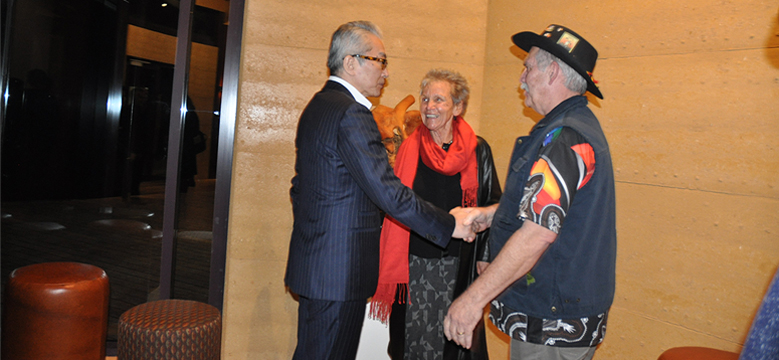 Mr Suzuki with Ulrike and Ivan. Photo courtesy of Mia Copley



After the building had been cleansed, Ivan welcomed us into the hall for an intimate long table dinner in honour of Satoshi Suzuki, President and CEO of Palo Orbis, parent company of Jurlique. It was a great joy for Ulrike to host this event and reciprocate the generous hospitality shown to her by Mr Suzuki when she visited him in Japan. The support from Jurlique both for the opening weekend and our concert series, together with the magnificent portal sculpture they donated for the garden is greatly appreciated and a wonderful way of acknowledging the deep connection between Jurlique and the Ngeringa property which was once its herb farm.



Australian String Quartet giving the first performance in the hall. Photo courtesy of Mia Copley. Pre dinner photo: Mandy Foot.
Joyous Launch



Left: Ulrike with the Premier Jay Weatherill. Photo David Mariuz. Right: Ulrike with Matthew Hindson. Photo David Mariuz.

The official opening was a joyous occasion! A gathering of everyone who made it happen together with friends and family. The Premier, Jay Weatherill, paid tribute to the vision of the Klein family and the Australian String Quartet opened the program with a thrilling performance of Matthew Hindsonís String Quartet No.3 ĎNgeringaí. Click here and watch how the night unfolded.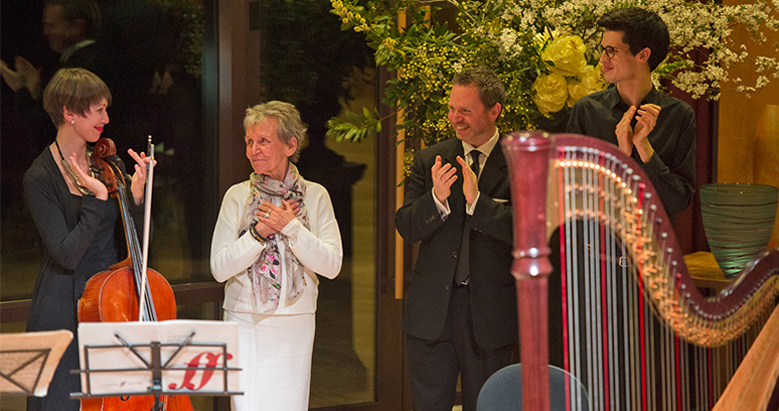 Above: Ulrike with the performers; left to right - Sharon Draper, Ulrike Klein, Marshall McGuire, Harry Bennetts. Photo David Mariuz.
Glorious acoustics





Australian String Quartet with guest violinists Susie Park and Brendan Joyce. Photos: David Mariuz.



The acoustic performance of the hall has been recognised nationally and was described in the Australian on 1.9.2015 as ĎAstonishing both visually and acoustically, the new Ngeringa concert hall in the Adelaide Hills is to be counted as one of Australiaís finest chamber music venues. The 200 seat auditorium is designed to a level of sophistication that one normally finds in the leading European centresí. Click here to read in full.
Special Screening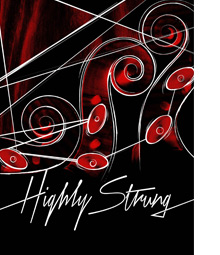 Celebrated film maker Scott Hicks continues his exploration of music with his new documentary Highly Strung. Inspired by Ulrike, this film gives a fascinating insight into the world of music, including the story behind the acquisition of the Guadagnini instruments. Shot in Italy, France, Germany, New York, London, Adelaide and the Mt Barker Summit, itís a journey into a rarefied world of elusive tones evoked by horsehair on catgut; of investors tempted to spend millions on unique instruments; and a quartet of virtuosi caught up in a duel of tension and harmony.
Click here to read more about what inspired Scott to make this documentary.

The film has its red carpet premiere at the opening of the Adelaide Film Festival (AFF) followed by a special screening at the Ngeringa Cultural Centre on

Wednesday 21 October

. Tickets include complimentary Ngeringa wines and Paris Creek cheeses from 6.15pm before the screening at 7pm.
It will be followed by a Q&A with Scott and Ulrike hosted by Amanda Duthie, Director of AFF.

Click here to book tickets.
Opening broadcast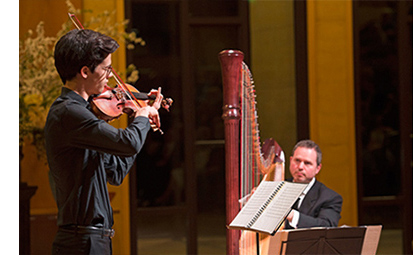 When tickets for our 2015 season went on sale last November the opening concert sold out within days. If you missed out now is your chance to hear the concert as itís being broadcast nationally on ABC Classic FM on

Sunday 25 October

at 5 pm. At 12pm on

Saturday 24 October

the Ngeringa Cultural Centre will be featured on an episode of Music Makers. Julia Lester has put together a comprehensive one hour special program covering every aspect of the design, construction and acoustics and has sought input and opinions from many musicians and national arts leaders.

Harry Bennetts with Marshall McGuire.
Photo David Mariuz.

Hospitality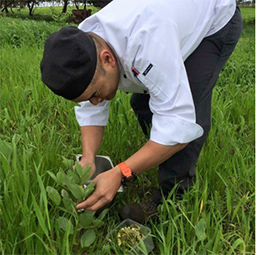 Dennis Leslie, Head Chef of the Hill of Grace Restaurant at Adelaide Oval, leads a talented hospitality team that has developed new dishes and flavour combinations for functions held at the Ngeringa Cultural Centre. A produce-driven food philosophy guides the menu, with a strong focus on seasonality and use of locally grown, farmed or fished produce wherever possible. Ngeringa Vineyards biodynamic fine wines are served as part of the beverage offering.

If youíre interested in hosting a function at the Ngeringa Cultural Centre click here to submit your enquiry.



Alison Beare


General Manager, Ngeringa Arts



Photo: Dennis Leslie, foraging on the Ngeringa farm.



A Springtime offer from NGERINGA Vineyards
Happy spring greetings from NGERINGA Vineyards where we are thrilled to watch our vines come to life with the start of bud burst! Thus far this spring we are enjoying warm and somewhat dry, sunshine-filled days and exceedingly cool nights. We look forward to a fantastic vintage ahead!

To mark the advent of the new season, we are very happy to offer two of our back-vintage wines - NGERINGA Chardonnay 2008 and NGERINGA Syrah 2009 (valued at $120) - exclusively to Ngeringa Arts patrons for $90. If you would like to take advantage of this offer, email NGERINGA at

[email protected]

with the subject line Ngeringa Arts Springtime Offer with an email address or phone number where we can best reach you and we will be back in contact directly. As ever, we look forward to welcoming you to our open Cellar Door for wine tastings at our popular Pizza Sundays on the final Sunday of the month. At all other times, we are very happy to host private tastings or gatherings.

For Pizza Sunday and all other bookings, ring us: 8398 2867 or email

[email protected]





If you no longer wish to receive e-mails from us, click here to opt out