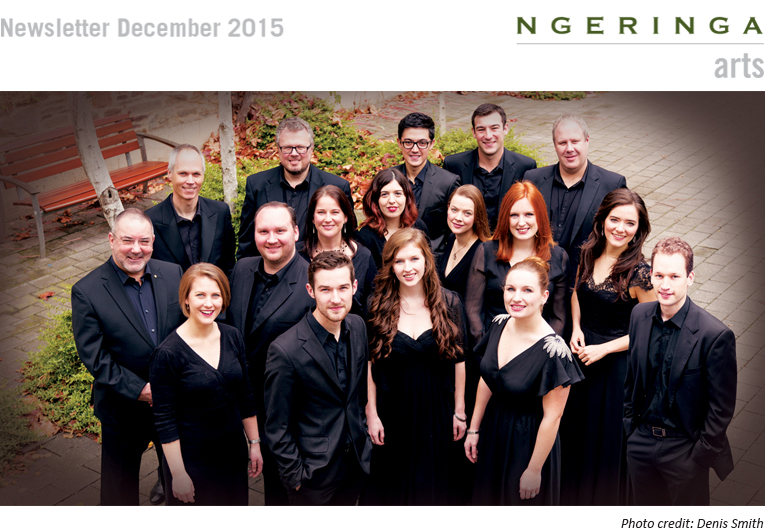 Sublime Voices
The purity of 17 voices came together as one for the season finale of the Ngeringa Arts Concert Series. Adelaide Chamber Singers (ACS), under the direction of their founder Carl Crossin, gave a stunning performance which truly brought the hall alive! The clarity and beauty of the sound, particularly when the singers spread out through the audience, was remarkable and it was easy to hear why they were awarded Choir of the World at Llangollen, Wales.
Greta Bradman at Ngeringa


Photo credit: Albert Comper

Last week, Greta Bradman, a former member of ACS, announced a national tour on the back of her 2015 award-winning chart topping debut album 'My Hero'. Released on the Decca label it's a celebration of Greta's own heroes, notably Richard Bonynge, who conducted her with the English Chamber Orchestra for this album. Her tour includes a performance at the Ngeringa Cultural Centre with pianist Rhys Boak on

Friday 5 February at 6 pm

. Click here to purchase tickets.

Ngeringa 24





Genevieve Lacey photo credit: Heide Smith.

Karin Schaupp photo credit: Matt Black.

Join us for a weekend of discovery on 23 & 24 April. Genevieve Lacey, recorder virtuoso, artistic director and serial collaborator has curated this event especially for us. She's bringing together striking individuals - curious, imaginative people who are masters of their craft including Marshall McGuire (harp), Karin Schaupp (guitar), Umberto Clerici (cello), Phil Slater (trumpet), Chloe Hooper (writer), Sera Davies (filmmaker), Jim Atkins (sound design) and of course she'll be joining them!

Five concerts over the course of 24 hours opening with a free concert by Adelaide Voices. These are conversations you can't hear anywhere else.

Click here to book your tickets.





Be part of the conversation with artists and friends at the Harvest Table. After the Ngeringa 24 concerts,

daytide

,

dusk

and

daylight

, there is a shared meal starting with a picnic in the garden. Our executive chef Dennis Leslie draws his inspiration from the home-grown offerings found in Ngeringa's very own backyard. All meals are complemented by fine wines from NGERINGA Vineyards which are available for purchase by the glass or bottle. Click here to book your place at the table. You can select individual concerts and meals or a combination of both. If you book more than one concert, the discount is automatically applied at checkout.
Give an Experiential Gift
Tickets to one of our concerts, a mini subscription or a place at the Harvest Table all make wonderful Christmas gifts for friends and family. Click here to book on line or call Emma on 8227 1277 if you'd like a personalised voucher to present on Christmas day.
Lyrebird Trio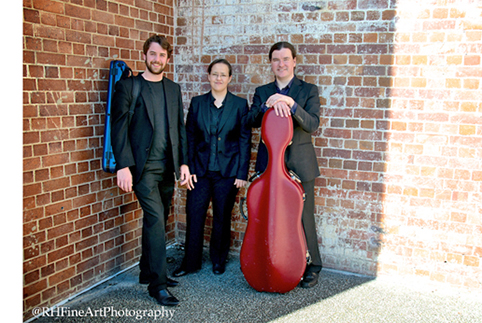 Simon Cobcroft, Principal Cellist with the Adelaide Symphony Orchestra was one of the first musicians to play in the hall. We asked him and his colleagues to play for Arup in early August so they could test the acoustics before the opening. Simon recalls the experience.



'From the moment I set foot in the wonderful new concert hall I was spellbound, at first by the sheer beauty of the space, and then by its superb acoustic. Almost immediately, I became aware that the hall possessed that rarest coupling of qualities: absolute clarity of sound throughout, allowing every minute detail to be heard with ease, accompanied by a glorious and enveloping warmth. How exciting that this magnificent new space is here in South Australia, and what a joy it is to play there!'



Simon returns with the Lyrebird Trio to open our 2016 season on

Sunday 28 February at 3 pm

. His colleagues, Glenn Christensen, violinist with the ACO and pianist Angela Turner are distinguished graduates of the Queensland Conservatorium and as a trio they were major prize winners at the Asia Pacific Chamber Music Competition in 2013. For their debut at Ngeringa they will perform works by Beethoven, Nigel Westlake and Smetana. Click here to book your tickets.

Introducing Kingsley Schmidtke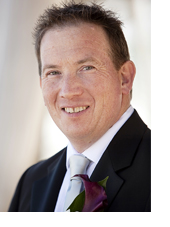 Kingsley is our new Facilities Manager. He comes to us from the Adelaide Symphony Orchestra (ASO) where he worked for 18 years in production, facilities and venue sales specialising in logistics and outdoor events.

His career highlights include being tour manager on a variety of ASO tours including to Malaysia in 2006 and LA and New York in 2009. He has also been event manager for the Santos

Symphony Under the Stars

in Elder Park for the past 10 years.

Based on site at the Ngeringa Cultural Centre, Kingsley also has a passion for gardening and hospitality. We are absolutely delighted to have him as part of our team.
NGERINGA Vineyards is in the Market for Love Bugs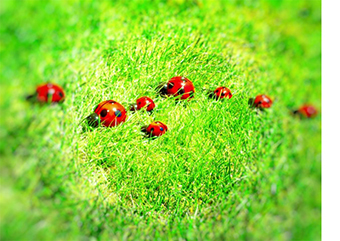 On Sunday, January 24th join NGERINGA Vineyards at the cellar door from 9am to 5pm for our Crush 2016 Love Bugs celebration.

At NGERINGA Vineyards, we love the good bugs that keep our vineyards naturally healthy and we employ biodynamic methods to help them thrive. We also love being part of a community of like-minded agriculturalists and producers - passionate artisans who create distinctive, quality products by favouring biodynamic or organic methods and championing the handmade and the local… artisans who truly understand that keeping our soils healthy and our lovely bugs happy is at the heart of sustainability.

For our Crush event NGERINGA Vineyards is bringing together a gathering of bug-loving friends to sell their wares beneath umbrellas on the lawn alongside a full day of beautiful food and NGERINGA's fine, biodynamic wines. Breakfast and lunch menus by Hill of Grace head chef Dennis Leslie, live acoustic music by Jazzy Jones, and a bug-inspired children's craft corner run by The Barn studio and gallery.
We look forward to seeing you there!
Festive Greetings from us All
From everyone at Ngeringa Arts, thank you for your support throughout the year. Have a joyful Christmas and may the New Year be filled with music!

Alison Beare
General Manager, Ngeringa Arts






If you no longer wish to receive e-mails from us, click here to opt out