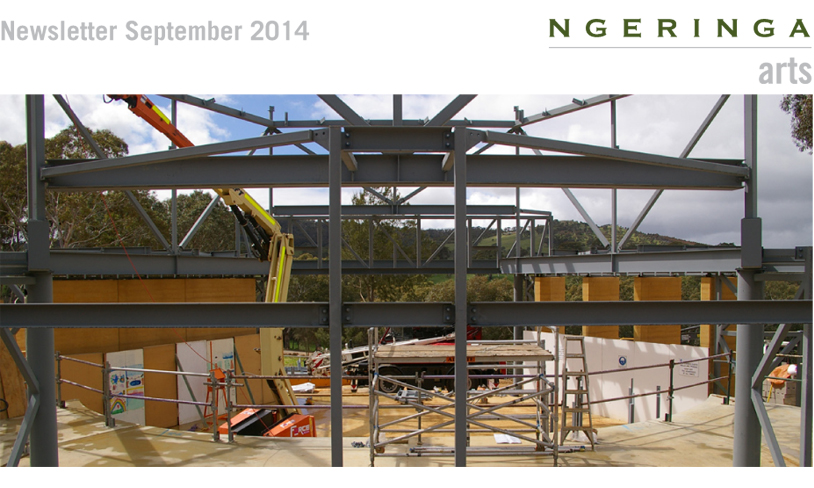 Taking Shape
With the soaring steel structure starting to take shape and the rammed earth walls firmly in place, the character of the Ngeringa Arts Cultural Centre is truly beginning to emerge. Standing in the shell of the concert hall, looking up to the Mt Barker summit is a magical experience. The reality of what we are creating has focused our attention on planning for its future and bringing it to life as a nationally significant cultural icon. To guide us in this process we have appointed our first Artistic Advisory Board.
Ngeringa Arts Ambassadors
This exceptional group of arts leaders from Adelaide, Sydney and Melbourne will provide advice and guidance to the Board and be national ambassadors for Ngeringa Arts.

It is with great pride that we introduce our ambassadors to you.




From left:

Colin Cornish

CEO, Australian Youth Orchestra |

Paul Dean

Artistic Director, Australian National Academy of Music. Photo credit: Pia Johnson |

Amanda Duthie

Festival Director and CEO, Adelaide Film Festival and Festival of Ideas |

Genevieve Lacey

Freelance Recorder virtuoso, Collaborator and Artistic Director, Member of Black Arm Band and former Artistic Director of the Four Winds Festival.






From left:

Greg Mackie OAM

Consultant and SA cultural advocate. Former CEO of Arts SA. |

Marshall McGuire

Harp virtuoso and Music Programmer, Arts Centre Melbourne. Photo credit: Bridget Elliot |

Tim Matthies

Director Business Development, Concerts, Musica Viva Australia |

Mary Vallentine AO

CEO, Melbourne Recital Centre.

They will come together for the first time in February and then again in August immediately prior to the opening of the Cultural Centre. Their combined wisdom will help us create a dynamic, vibrant centre of artistic excellence.

Extraordinary Musicianship



Andrew Goodwin and Daniel de Borah

Last month Andrew Goodwin and Daniel de Borah displayed extraordinary musicianship in their exquisite recital of German lieder and Russian songs. Having met in St Petersburg where they both completed advanced studies, their performance drew on the full range of emotions and showed the true power of the human voice. Their performance inspired this response from Emma Wu, a vocal student at the Elder Conservatorium of Music.

'I drove to Mt Barker with Fritz Wunderlich's singing of the same cycle and I was really surprised when I heard Andrew sing because his tone was so close to Wunderlich's. It was such a pleasure to listen to two highly educated and cultured musicians – they both enjoyed themselves and the team work was fabulous'.
Afternoon Soiree in Paris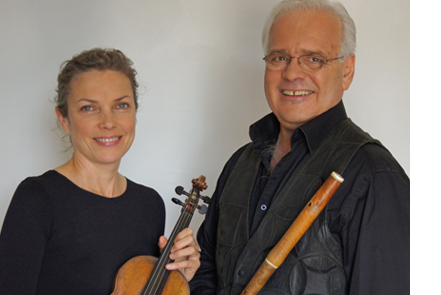 This month we take you to Paris for an afternoon soiree with the Elysium Ensemble on Sunday 28 September at 3 pm. Performing on period instruments, Lucinda Moon (baroque violin) and Greg Dikmans (baroque flute) will be joined by Hilary Kleinig (cello) and Glenys March (harpsichord).

Greg and Lucinda have been working together for over 25 years. In this time they have developed a fruitful collaboration built around an approach to historically informed performance that is characterised by careful scholarship combined with subtle, tasteful and, above all, unpretentious musicianship. We greatly appreciate the support of Knightsbridge Wealth Management who have made this concert possible through their generous sponsorship.

If you haven't already booked your tickets

click here

.



Lucinda Moon and Greg Dikmans

.

Photo credit, Leonard Szablinski.



The Ngeringa Garden



Winnie Pelz, a celebrated artist and experienced gardener is our designer. As the building progresses so too does the garden starting with this gently cascading water feature. Nestled among the gums, you can imagine how beautiful it will look when it is fully planted and the water is flowing.
2015 Season
Our planning for next year is well underway and tickets go on sale from

Monday 24 November

. The first concert is on Sunday 29 March and until August our concerts will continue at the Living Arts Centre at the Mt Barker Waldorf School. The new concert hall will be open to the public for the first time on

Sunday 30 August

with a special concert performed by leading Australian musicians including the world premiere of a specially commissioned work to mark the occasion.

We expect there will be a lot of interest in this concert, so we suggest you book your tickets as soon as they go on line.
From NGERINGA Vineyards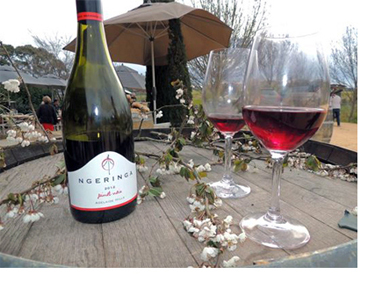 We're looking forward to seeing many Ngeringa Arts concertgoers on Sunday, 28 September for Pizza Sunday! There are still places available for lunch so if you would like to book, please contact us directly at the Cellar Door and be sure to let us know that you'll be attending the concert to enjoy our special Ngeringa Arts offer: $25 per person for a starter of NGERINGA olives, olive oil and crusty sourdough bread to share, a pizza of your choice and a tea or coffee to finish.

With the glorious spring weather come changes at NGERINGA! Our biggest and happiest change of late has been the arrival of our third beautiful boy. Lachlan Rowan made his appearance on July 1st and has rapidly stamped his mark by insisting on some significant amendments to our schedule. With this in mind, we have decided to alter our Cellar Door hours to concentrate on those opportunities that let us best develop relationships with depth. Our new opening hours are our end-of-month Pizza Sundays, SOLSTICE Wine Club events, Adelaide Hills annual regional events (Crush & Winter Reds) and private group bookings. We are open at all other times by appointment only. We are looking forward to this new schedule as an improved chance to get to know our customers and are eager to see you at the Cellar Door! To make a booking for a Pizza Sunday, a private tasting or a group event ring 8398 2867 or email

[email protected]




Photo credit: Rebecca Brislan.








If you no longer wish to receive e-mails from us, click here to opt out