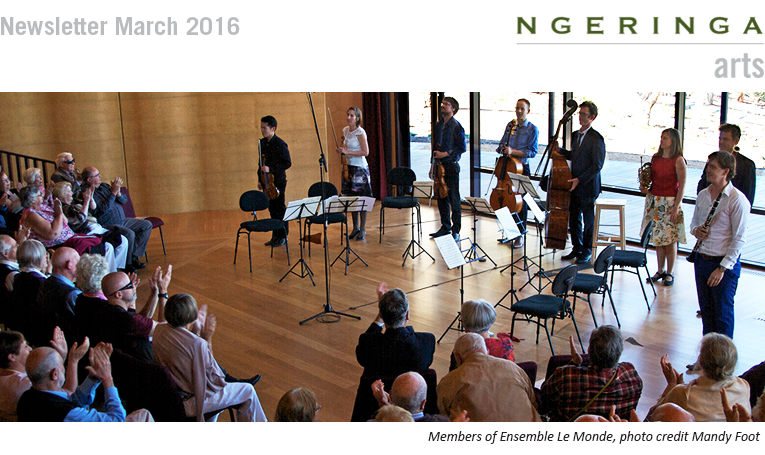 If you judge a city by the quality of its orchestra then Adelaide is the place to be! Seven members of the ASO, led by their former Associate Concertmaster Ike See, performed at Ngeringa for the first time last Sunday. With many principal players in the ensemble, they gave a breathtaking performance of Schubert's joyous and rarely played octet. At almost an hour's duration, their stamina was rewarded by rapturous applause from a packed house.
The pure sounds and spirit of Young Adelaide Voices
A remarkable group of young women aged 13 – 18 make up this treble choir which will give the opening performance at

Ngeringa 24 at 11am on Saturday 23 April

. Curator, Genevieve Lacey, took time out of her busy schedule to attend a rehearsal and was struck by their intensity and focus.

"Surrounded by the sounds and energy of Christie Anderson and Young Adelaide Voices, I reflected on what a formative experience this would be in a teenage life: being part of a community of passionate, intelligent peers, enjoying one another's company, and working as a team at an extraordinarily high level.

Their sound embodies youth and hope - within seconds, they help you remember your most optimistic, joyful self. Alison and I emerged from their rehearsal refreshed and inspired."

This concert is our gift to you. Admission is free click here to register. Click here for the program. After the concert enjoy a picnic in the garden, buy a box from us or bring your own.



Young Adelaide Voices. Genevieve Lacey, photo credit Elizabeth O'Donnell.
Ngeringa 24 - What will you hear?
When Ulrike and I invited Genevieve to curate Ngeringa 24 we imposed no parameters we just trusted that her outstanding musicianship and experience as a collaborator would result in something truly unique. So what will you hear? I asked Genevieve to share her inspiration and musical vision for the weekend.

"Ngeringa 24 maps the circadian rhythms of 24 hours in music, poetry and film. It traces the different moods of a day and night, as they unfold around us. We begin with the optimism of Daytide - the innocent, untarnished sound of a treble choir singing new Australian music, under clear, Mt Barker morning light. At Noon, we hear each of the festival artists as soloists – musically alone with their thoughts, exposed under the gaze of the full sun.

The brilliant cast of musicians have chosen extraordinarily eclectic works, from Hildegard's ethereal visions, Frescobaldi's spare beauty, selections from Bach's beloved 6th cello suite, shimmering tremolo guitar solos, the contemplative peace of Arvo Pärt, and world premieres for trumpet and electronics. This performance is interleaved with poems old and new, selected and read by writer Chloe Hooper, all contemplating noon.

Dusk is a time for gently gathering up the threads of the day. Musically, we hear exquisite chamber music, played in twos and threes, from mysteriously beautiful fourteenth-century sounds, through seventeenth century pastoral idylls, into a nineteenth-century classic reimagined, with reference to some key contemporary Australian figures.

Owl light - the journey into darkness. Three brand new, evocative compositions unfold before you, alongside the lyrical, poetic work of filmmaker Sera Davies. And then, Daylight once more, a chiaroscuro, time-lapse version of the last 24 hours in music and words, spanning seven centuries. As artists and listeners, Ngeringa 24 gives us a unique opportunity to live 24 hours through our senses."



Now you know what's inspired Genevieve, click here and have a listen. Audio credit: Ngeringa 24 artists and ABC Classics.
Click here to book tickets.
Click here for the full program.

Sculpture Symposium coincides with Ngeringa 24



Ngeringa 24 coincides with the closing weekend of the third and final Adelaide Hills International Sculpture Symposium on

23 and 24 April

. If you are planning to come to Ngeringa for any or all of the concerts, try and allow time to visit the Cedars in Hahndorf to see the sculptures in the final stages of completion. The Klein Family Foundation is once again delighted to be associated with this visionary project for the Adelaide Hills and has supported the commission by Dutch artist Karin Van Ommeren. For more information visit Adelaide Hills International Sculpture Syposium.
Meet Michael Barenboim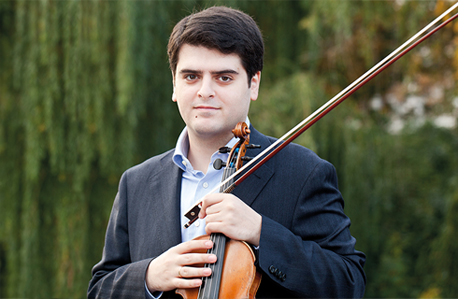 Michael Barenboim, son of international conductor and artist Daniel Barenboim, lets music, in its diverse and enduring ways, speak for itself through his violin. He will commence his Australian tour at the

Ngeringa Cultural Centre at 2.30pm on

Sunday 10 April

, followed by performances at the Melbourne Recital Centre and the Utzon Room at the Sydney Opera House.

He has performed as soloist with leading international orchestras including the Chicago Symphony, the Israel Philharmonic and the Mahler Chamber Orchestra. Presented by Recitals Australia, it's a unique opportunity to hear him perform in an intimate setting which is perfectly suited to his solo program of Bach, Bartok and works in memory of Pierre Boulez.

A special Q&A session will be held immediately after the performance, hosted by Julia Lester. Click here for more information and to purchase tickets.
New artwork on display



Two magnificent large-scale collaborative paintings

Kuru Ala

and

Ilkurlka

are on display at the Ngeringa Cultural Centre. On loan from the Art Gallery of South Australia, they were created at an important soakage site, Ilkurlka, deep in the Great Victoria Desert. The artists travelled there in March 2015 to create these paintings and a larger body of work especially for TARNANTHI, Festival of Contemporary Aboriginal and Torres Strait Islander Art. They were each painted by a group of Pitjantjatjara men and women from the Spinifex Arts Project and the full story behind these important works is on display next to the art in the foyer.
Dinner to support an iconic South Australian artist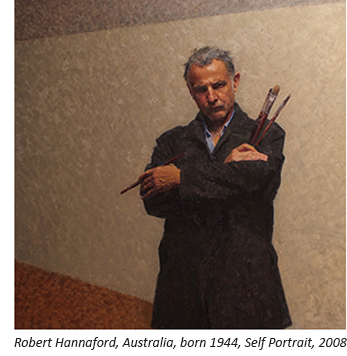 As a token of our appreciation to the Art Gallery of South Australia, we have made the Ngeringa Cultural Centre available for the Foundation's annual fundraising dinner on

Saturday 2 April at 6.30pm

.

This special occasion is to support the upcoming

Robert Hannaford

exhibition and associated publication. A limited number of tickets have been made available to our patrons. The cost is $500 per person which is partially tax deductible.

Bookings through Charlotte Smith
T 08 8207 7040 or email

[email protected]




Alison Beare
General Manager
Ngeringa Arts


[email protected]








If you no longer wish to receive e-mails from us, click here to opt out